Cookie preferences
This website uses cookies, which are necessary for the technical operation of the website and are always set. Other cookies, which increase the comfort when using this website, are used for direct advertising or to facilitate interaction with other websites and social networks, are only set with your consent.
29,95 € *
*All prices include VAT, shipping costs will be charged separately.
Type:

Pocket Knife

Engraving:

Yes

Brand:

Boker Plus

Overall Length:

7,10 cm

Blade Length:

2,70 cm

Blade Thickness:

1,90 mm

Weight:

35,00 g

Designer: Chad Los Banos
Blade Material:

AUS-8

Handle Material: Stainless Steel, Zytel
Opener: Thumb Stud
Opening:

Manual

Lock Type: Framelock
Item Number:

01BO573
Böker Oil Pen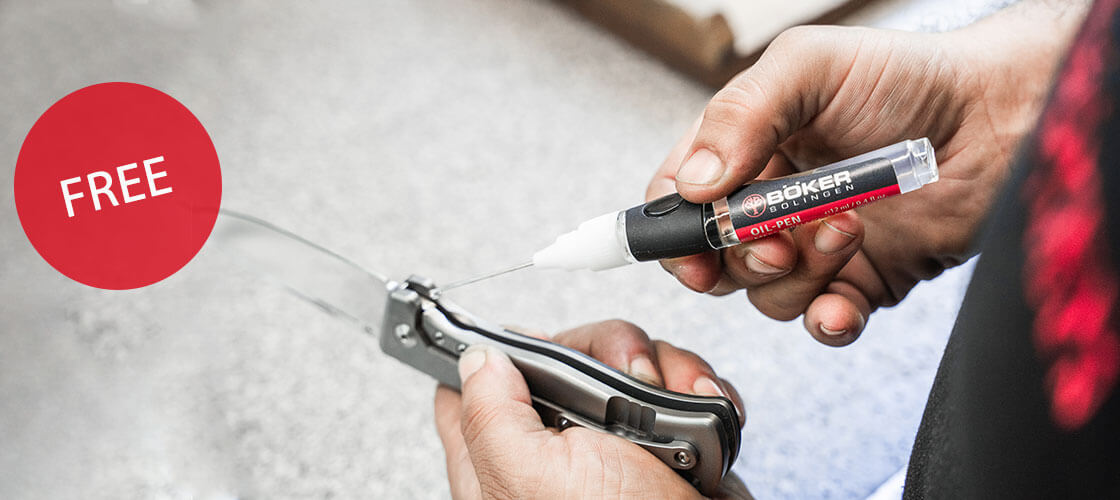 From an available order value of 49,- €* you will now receive a Boker Oil-Pen worth 11,95 € free of charge with your order!
*1 Offer expires at the latest on 15/12/2023
As is typical for Chad Los Banos , his smallest pocket knife ever nevertheless features sophisticated ergonomics and high utility. Even this dwarf with barely 7 cm of overall length can be held securely and firmly in order to cut...
read more
As is typical for
Chad Los Banos
, his smallest pocket knife ever nevertheless features sophisticated ergonomics and high utility. Even this dwarf with barely 7 cm of overall length can be held securely and firmly in order to cut uncooperative packaging straps, cartons, and anything else one may come across down to size. It features a
steel
frame lock with
zytel
front scales and a removable
clip
(tip up). With a high-quality nylon case for storage.
Reviews for "DW-1"
From:
Axel
On:
2 Jul 2022
Sehr kompakt, leicht, aber leider auch zum einhändig Öffnen etwas schwierig zu greifen
Das DW-1 ist nochmals 'ne ganze Nummer kleiner als das für mich recht angenehm zu bedienende DW-2. Für mich ist es trotz meinen eher kleinen Händen nur ein Anderthalb-Finger-Messer.

Positiv:

Der Pin ist beidseitig und das Messer kann, auch wenn der Griff auf Rechtshänder optimiert ist (Griffschale mit angedeuteter Fingermulde für Rechtshänder, Clip auf der anderen Seite), kann das Messer genauso gut von Linkshändern leicht benutzt werden.

Einmal geöffnet liegt das Messer dank des geriffelten Messerrückens sowie der Fingermulde im Griff sehr gut zwischen Daumen und Zeigefinger in der Hand.

Das Messer ist extrem kompakt und passt sogar in die fünfte Tasche (wohl für kleine Taschenuhren gedacht) von Five-Pocket-Jeans.

Negativ:

Beim einhändig Öffnen ist es schwierig, das Messer auf der Rückseite mit zwei Fingern festzuhalten, damit es sich nicht dreht. Dazu kommt ein recht scharfkantiger Pin. Allzu leicht blockiert man das Messer, weil man aus Versehen irgendwo noch von hinten auf die Klinge greift. (Einen Stern Abzug hierfür.)

Der kleine Ball im Framelock, der das Messer in geschlossenem Zustand zu hält, sorgt dafür, daß es beim Öffnen einen spürbaren Einraster gibt kurz bevor der Framelock greift. Dies kann die Illusion geben, daß der Framelock bereits gegriffen hat, obwohl das Messer durchaus mit nicht allzuviel Kraft wieder zugedrückt werden kann. Allerdings besteht dennoch kaum eine Gefahr einer Schnittwunde bei versehentlichem Zuklappen, weil der dicke, nicht scharfe Hinterteil der Klinge vorher am Finger in der Fingermulde blockiert — sofern man einen Finger in der Mulde hat. Ansonsten… (Einen halben Stern Abzug hierfür.)

Der Clip ist recht stark und ich habe oft Mühe, den Clip über abgenähte Kanten drüber zu stülpen. Dies liegt aber vermutlich primär an der aufgrund der Gesamtlänge auch recht kurzen Clips. (Einen halben Stern Abzug dennoch auch hierfür.)

Es gibt nur genau eine Position für den Clip. Und wenn ich es in der mitgelieferten Böker-Plus-Aufbewahrungtasche festclippen will, will ich es immer mit dem falschen Ende des Clips einstecken. Andererseits stimmt die Orientierung des Clips für ein Verstauen im Hosensack. Insofern ist hier nur mangelnde Flexibiltät zu bemängeln und nicht die gewählte Ausrichtung des Clips, da diese für die meisten Fälle die richtige Ausrichtung ist.

Es ist vermutlich trotz der Größe von §42a betroffen. Andererseits kann ich mir nicht vorstellen, daß jemand dieses winzige Messer als Waffe ansieht.

Achja, und mehr Farbvarianten wären noch schön. :-)
From:
Moldovan Mihai
On:
4 Jul 2020
The safety block broke
I have the knife for 2 years and recently I saw that the blade didn't remained in the lock position after I opened the knife and when I took a closer look at it I saw that the safety thing that holds the blade from closing accidentally was cracked almost all the way. It cracked at the thinnest point. Now I have to change it since it's not very safe anymore. I was expecting a little bit more of it...
Hello Moldovan, thank you very much for your feedback and please excuse the inconvenience caused.
The Boker Knife Manufactory Solingen grants owners of a Boker knife ( Boker, Boker Plus, Boker Arbolito, Magnum) a lifetime warranty on material and workmanship. The guarantee includes spare parts and labour costs.
Are you already in contact with our repair and warranty service? If not, please send us a short email to service@boker.de and we will contact you as soon as possible.
From:
Anders
On:
20 Jul 2019
Superb little knife
Perfect for opening boxes at work while remaining completely non-threatening and without the bulk of a box cutter. Great to grip despite its tiny size. Higher grade steel would have been nice, it needs frequent sharpening, but it is outstanding value.
Write a review
Reviews will be activated after a verification.
Help other interested parties with their purchase decision. We appreciate your honest evaluation.
Chad Los Banos
Chad Los Banos from Hawaii is a veteran Corrections Officer, former bodybuilding champion, practitioner of various modern combative and traditional martial arts, and last but not least Knife Designer, specializes in handy tactical Pocketknives, which in the best case cover a wide range of applications.
Read more
Hide
Show products
Böker Plus
In close cooperation with renowned international designers we develop and test modern utility knives and gentleman pocket knives with a stylish appearance as well as functional tactical knives for the professional user. Boker Plus knives are innovative in terms of function and design, as well as guaranteed for everyday use. Conception, design and construction are carried out in Solingen, and production takes place in Europe, the USA and Asia.
In close cooperation with renowned international designers we develop and test modern utility knives and gentleman pocket knives with a stylish appearance as well as functional tactical knives... more
Show products