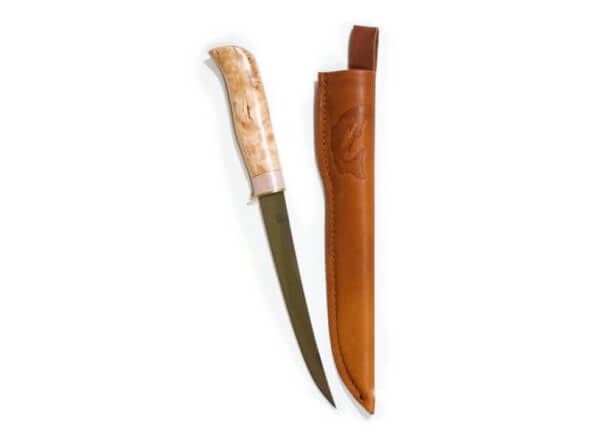 141,95 € *
*All prices include VAT, shipping costs will be charged separately.
Type:

Fixed Blade

Blade Length:

16 cm

Blade Material: 12C27
Handle Material: Birch Wood
Lock Type:

Fixed

Color:

Brown

Blade Color:

Uncoated

Sheath Material:

Leather

Item Number:

02KA028
Knife handle made from grained birch and reindeer horn , blade length 160 mm, stainless . Knife sheath made from cowhide with plastic insert.
read more
Reviews for "Laxen"
Write a review
Reviews will be activated after a verification.
Karesuando
Karesuando is a town in Lapland in the far north of Sweden. Located directly on the banks of the river Kaaresuvanto, which marks the border with Finland. In Karesuando, 250 km north of the Arctic Circle in the land of the elks, the reindeer, the midnight sun and the polar light, nordic knives are handmade according to old tradition. Karesuando has been a manufacturer since 1975 and since then has produced over one million blades. Only natural, traditional materials are used, such as oiled grains and reindeer horn as handle material, as well as selected cowhide for the sheaths.
Karesuando is a town in Lapland in the far north of Sweden. Located directly on the banks of the river Kaaresuvanto, which marks the border with Finland. In Karesuando, 250 km north of the... more
Show products