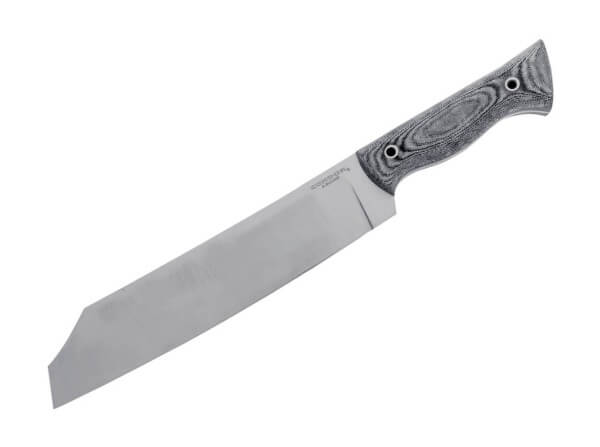 149,95 € *
*All prices include VAT, shipping costs will be charged separately.
Type:

Machete

Overall Length:

38,1 cm

Blade Length:

24,9 cm

Blade Thickness:

6 mm

Weight:

700 g

Blade Material:

1075

Handle Material: Micarta
Lock Type:

Fixed

Made in:

Central America

Color:

Multicolored

Blade Color:

Uncoated

Sheath Material:

Leather

Item Number:

02CN151
The almost completely straight edge and large blade width almost to the point make the Condor Woodbuster frighteningly effective as a brush cutter and compact machete. The non- stainless blade is made from 1075 carbon steel . Comes...
read more
Reviews for "Woodbuster Chopper"
Write a review
Reviews will be activated after a verification.
Condor
Die Geschichte von Condor Tool & Knife geht weit zurück, in das Solingen des Jahres 1787, auf die Gebrüder Weyersberg. Deren Nachfahren expandierten im Jahr 1964 nach El Salvador, wo dann 2004 mit Condor Tool & Knife eine neue Produktlinie hochwertiger Messer und Macheten für den europäischen und amerikanischen Markt begründet wurde. Heute zählen die Produkte von Condor zu den verbreitetsten Produkten ihrer Art und haben sich millionenfach im schweren Einsatz bewährt.
Die Geschichte von Condor Tool & Knife geht weit zurück, in das Solingen des Jahres 1787, auf die Gebrüder Weyersberg. Deren Nachfahren expandierten im Jahr 1964 nach El Salvador, wo dann... more
Show products