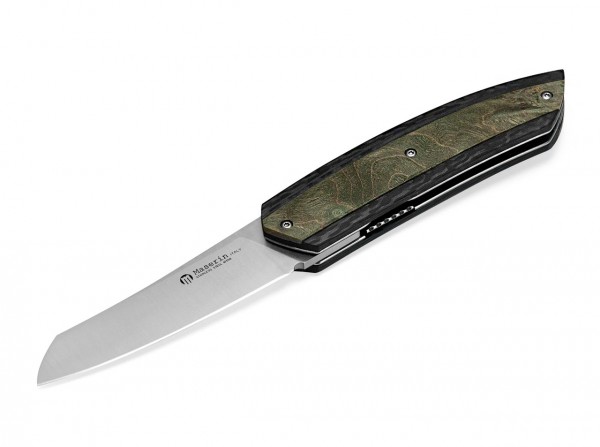 280,74 € *
*All prices include VAT, shipping costs will be charged separately.
Type:

Pocket Knife

Overall Length:

21,00000000

Blade Length:

9,5 cm

Blade Thickness:

3 mm

Weight:

120 g

Blade Material: M390
Handle Material:

Burl Wood

Opener: Flipper
Opening:

Manual

Lock Type: Linerlock
Made in:

Europe

Color:

Green

Blade Color:

Uncoated

Item Number:

01MA120
Maserin
For more than half a century, Maserin from Maniago in Northern Italy is known for its high-quality knives. Founded in 1960, Maserin is proud to have brought the tradition of Maniago cutlers and modern manufacturing techniques such as CNC machining and laser cutting into harmony with each other in a very individual and charismatic way. Today Maserin is producing distinctive knives for sporting, hunting and outdoor sector as well as premium collector's pieces. This extraordinary mixture of traditional craftsmanship, a classic but up to date selection of materials and the unparalleled Italian design makes them into such a unique kind of knife and satisfies collectors and users at the same time. Stamped by elegance, the knives made by Maserin are always useful and helpful companions in various living situations.
For more than half a century, Maserin from Maniago in Northern Italy is known for its high-quality knives. Founded in 1960, Maserin is proud to have brought the tradition of Maniago cutlers and... more
Show products