269,00 € *
*All prices include VAT, shipping costs will be charged separately.
Type:

Fixed Blade

Overall Length:

28,8 cm

Blade Length:

16,5 cm

Blade Thickness:

4,9 mm

Weight:

258 g

Designer: Tony Lennartz
Blade Material: N690
Handle Material: G10
Lock Type:

Fixed

Color:

Black

Blade Color:

Uncoated

Sheath Material:

Leather

Item Number:

120747
Free Boker Wall Calendar 2020
Wall Calendar 2020
With your order you can get a free Boker Wall Calendar 2020.

Only redeemable once per customer and only while stocks last.
Cannot be combined with other promotions or vouchers.
Only valid for items in stock.
This modern classic is a full-size survival knife whose versatility helps it to tackle any situation one might come across in the wild. From building a shelter to hunting uses and intercepting or skinning game, or even preparing...
read more
This modern classic is a full-size
survival knife
whose versatility helps it to tackle any situation one might come across in the wild. From building a shelter to hunting uses and intercepting or skinning game, or even preparing meals, the Boker German Expedition Knife leaves nothing to be desired. The versatile blade shape is based on the experience of
Tony Lennartz
, while the G.E.K. has also gained wide appeal by practitioners as a highly versatile tool. This exceedingly rugged design uses
N690
as the blade
steel
, which provides an excellent foundation with its grain structure and good corrosion resistance The rugged
stonewash
finish combines an easy to care for finish with an attractive visual appeal. The handle design of the G.E.K. was enhanced in an effort to perfect the ergonomics for the various grip positions. The perforated design of the handle ensures moderate weight, while the exchangeable
G10
handle scales provide optimum grip and extremely secure handling. The impact element on the pommel increases the range of uses. The left-handed or right-handed carry premium black leather sheath is designed for Lennartz' favorite carrying option - the cross draw. The knife is positioned diagonally on the belt and can be deployed or stowed away with ease. The knife is secured with a two-sided push-button closure.
Reviews for "G.E.K."
Write a review
Reviews will be activated after a verification.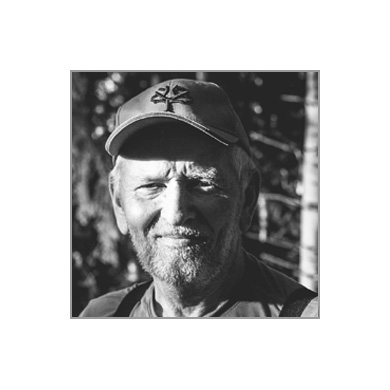 Tony Lennartz
Tony Lennartz has been an icon in outdoor, survival and bushcraft for decades. His wide range of experience is based on his years of professional activity as a soldier and policeman, as well as on his lifelong passion for life in the wilderness. During many longer stays in the USA and Canada a close connection with the culture of the Native Americans developed, whose techniques and methods he could learn there. The training courses of Tony Lennartz, which take place on a large area in the Eifel, have taught thousands of participants the foundations of survival in the wild for many years. Like no other, Tony Lennartz bundles the wilderness experience from decades and develops his strategies and techniques permanently. Thus his knife designs are the essence of his knowledge and a clear commitment to his philosophy of uncompromising functionality.
mehr anzeigen
weniger anzeigen
Produkte anzeigen
Böker Manufaktur Solingen
The famous knives with the world-renowned tree-brand are manufactured in the City of Blades Solingen since 1869. Since then, no knife left our manufactory without this sign of quality. The history of Boker has been affected by eventful times. But one thing has always been the same in more than 150 years: Our passion and enthusiasm for extraordinary knives. The Boker Knife Manufactory Solingen has developed into a global innovation leader and the largest manufacturer of Sporting Knives, Tactical Knives and Collector's Knives in Europe.
The famous knives with the world-renowned tree-brand are manufactured in the City of Blades Solingen since 1869. Since then, no knife left our manufactory without this sign of quality. The... more
Show products