Cookie preferences
This website uses cookies, which are necessary for the technical operation of the website and are always set. Other cookies, which increase the comfort when using this website, are used for direct advertising or to facilitate interaction with other websites and social networks, are only set with your consent.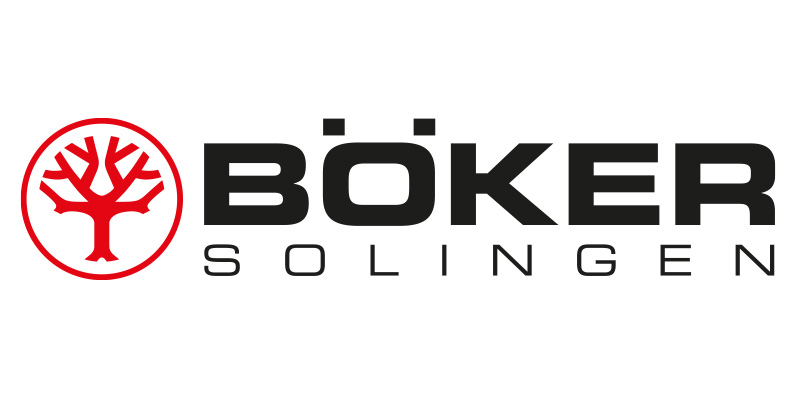 Böker Manufaktur Solingen
Barlow BFF
154,95 € *
*All prices include VAT, shipping costs will be charged separately.
Type:

Fixed Blade

Engraving:

Yes

Brand:

Boker

Overall Length:

15,30 cm

Blade Length:

7,00 cm

Blade Thickness:

2,50 mm

Weight:

65,00 g

Designer: Lucas Burnley
Blade Material: AEB-L
Handle Material:

Walnut Wood

Made in:

Germany

Color:

Brown

Blade Color:

Uncoated

Item Number:

120506
The Boker Barlow BFF designed by Lucas Burnley is manufactured as a fixed EDC in full tang construction. The renowned designer and full-time knifemaker from the USA bridges the gap between the historical roots of the...
read more
The Boker Barlow BFF designed by
Lucas Burnley
is manufactured as a fixed EDC in
full tang
construction. The renowned designer and full-time knifemaker from the USA bridges the gap between the historical roots of the tried-and-tested Barlow and the modern elements of his line design, which is referred to as Post Tactical, with this handy knife. The characteristic drop shape of the Barlow can be traced back to the English pocket knives of the 17th century, which certainly makes it one of the oldest models ever. The name of the classic probably goes back to an enterprising Sheffield knife manufacturer of the same name, who began exporting the robust knives to North America around 1800. There they immediately enjoyed great popularity and so the first Barlow models also appeared in the history of the Boker Manufaktur at the end of the 19th century.
In this fixed version, tradition, everyday utility and a touch of tactical finesse find a harmonious harmony. The compact Barlow BFF is made of
ice-hardened
AEB-L
, a versatile blade
steel
with excellent cutting capabilities, good rust resistance and easy resharpening. Designed as a fixed blade, this version of the timeless classic is equipped with
contoured
handle scales made of local walnut wood and fits comfortably in the hand. The decorative hollow brass stud also serves as a
lanyard hole
and, together with the studs in the same colour, adds a visual accent. Supplied with a custom-fit black leather sheath that ensures a high level of carrying comfort thanks to the integrated
clip
. Handmade in the Boker Knife Manufactory in Solingen.
Reviews for "Barlow BFF"
From:
Gerhard.L
On:
29 Aug 2022
Hervorragend als EDC
Bei diesem Messer ist es egal, ob es links oder rechts getragen wird. Das Messer sitzt tief und fest in der Scheide und benötigt daher auch keinen Druckknopfriegel.
Kurz gesagt, ein idealer Ersatz für normale Klapp-Taschenmesser, wenn man nur die Messerklinge benötigt. Und robuster ist es auch.

From:
Michael
On:
5 Dec 2021
Perfekte Kombination aus Klassik und Moderne
Zunächst: Stahl, Holz und Verarbeitung sowie Gravur sind ebenso perfekt wie der Service von Böker. Dafür einfach mal DANK!

Aber im Detail: Es ist zum Einen die perfekte Umsetzung des EDC Konzepts, weil sowohl Konzeption, Größe, Schliff und Stahl quasi universell sind und gleichzeitig im Alltag gut führbar (auch, weil sie keinen "erschrecken").
Aber zum Anderen: wenn man sich mit Messergeschichte befasst, ist die designerische Umsetzung einfach extrem gelungen. Klingenform, Griffanpassung, etc. sind "Übersetzungen des Barlow ins 21. Jhd.".
Das klassische Barlow wird, mit anderen Worten, super in die EDC-Ära als feststehendes Messer übertragen.

Für alle echten Messerfans (insb. für den Preis) ein "Schnapper"
From:
Michael H.
On:
19 Nov 2021
Messer = super Optik und Verarbeitung; Messerscheide ebenfalls sehr stimmig zum Messer und absolut hochwertig incl. Gürtelclip;
From:
Pit Roithmeier
On:
9 Nov 2021
High End Produkt
Grundgedanke und Umsetzung eines EDC in bestem Stahl (der mir tatsächlich nicht so geläuftig war) absolut gelungen!
Materialien des Messers sehr hochwertig, plan ausgearbeitet. Messerrücken für Feuerstahl bestens geeignet (selbst getestet).
Lederscheide ebenfalls in bester und robuster Qualität, Clip für die Hosentasche vernäht und vernietet.
Ferner habe ich mit eine Lasergravur gegönnt die absolut akurat ausgeführt wurde die auch deutlich spürbar ist.
Dazu habe ich mir ausserdem das Kamelienöl bestellt. Es hat die Maserung des Walnußgriffes noch etwas hervorgehoben und schützt selbstverständlich.
From:
Anonym
On:
6 Nov 2021
Einfach klasse
Grundidee, Design, Verarbeitung, Materialauswahl. Durchweg super Messer als EDC oder zum Sammeln.
Und der Böker Service ist super.
From:
Thomas Binder
On:
20 Oct 2021
Präzision
ein Messer von außergewöhnlicher Qualität, schöner Farbe und perfekter Präzision.
Ich kann es nur empfehlen!
Write a review
Reviews will be activated after a verification.
Help other interested parties with their purchase decision. We appreciate your honest evaluation.
Lucas Burnley
Lucas Burnley of Oregon has been a full-time custom knifemaker and designer since 2003. His distinctive knives blend clean, modern lines with tactical origins - a style Lucas identifies as Post-Tactical. His designs for fixed blades and pocket knives are both playful and sophisticated and often incorporate subtle neo-Japanese elements. Above all he believes that utility shouldn't come at the cost of beauty. In addition to Pocketknives and handy Fixed Blades, he also designs his own accessories.
Read more
Hide
Show products
Böker Manufaktur Solingen
The famous knives with the world-renowned tree-brand are manufactured in the City of Blades Solingen since 1869. Since then, no knife left our manufactory without this sign of quality. The history of Boker has been affected by eventful times. But one thing has always been the same in more than 150 years: Our passion and enthusiasm for extraordinary knives. The Boker Knife Manufactory Solingen has developed into a global innovation leader and the largest manufacturer of Sporting Knives, Tactical Knives and Collector's Knives in Europe.
The famous knives with the world-renowned tree-brand are manufactured in the City of Blades Solingen since 1869. Since then, no knife left our manufactory without this sign of quality. The... more
Show products