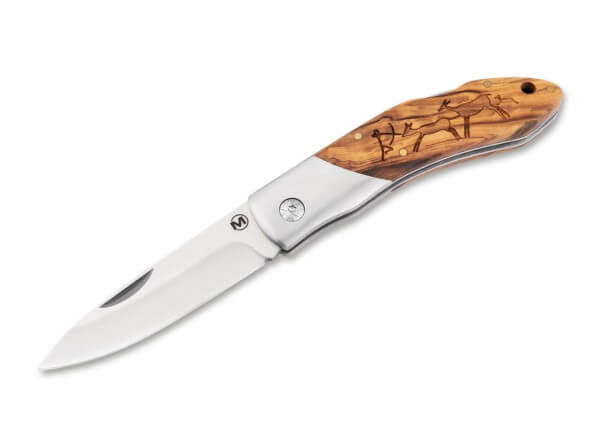 38,95 € *
*All prices include VAT, shipping costs will be charged separately.
Type:

Pocket Knife

Overall Length:

19,4 cm

Blade Length:

8,2 cm

Blade Thickness:

2,7 mm

Weight:

118 g

Blade Material: 440A
Handle Material:

Wood

Opener:

Nail Nick

Opening:

Manual

Lock Type: Backlock
Blade Color:

Uncoated

Item Number:

01RY818
Free Boker Sandwich Knife
Sandwich Knife
With your order you can get a free Boker Sandwich Knife.

Only redeemable once per customer and only while stocks last.
Cannot be combined with other promotions or vouchers.
Only valid for items in stock.
Traditional Lockback folding knife with blade made of stainless steel 440. The wood scales are decorated with decorative drawings from primeval cave paintings showing a prehistoric hunting scene. With lanyard hole.
read more
Traditional
Lockback
folding knife with blade made of
stainless steel
440. The wood scales are decorated with decorative drawings from primeval cave paintings showing a prehistoric hunting scene. With
lanyard
hole.
Reviews for "Caveman Steel"
From:
Vivien
On:
9 Dec 2019
Schönes Geschenk
Das Messer habe ich als Geschenk für meinen Neffen gekauft, es ist für seinen Preis von guter Qualität. Mehr als ich erwartet habe, auch wirklich scharf geschliffen! Also Achtung, für zu kleine Kinder nicht geeignet.
From:
Uwe
On:
25 Sep 2019
Sehr enttäuschend
Meine Tochter hat dieses Messer zum Geburtstag bekommen. Es sieht gut aus und hat eine schöne Größe. Nachdem es aber erst einmal benutzt worden ist, fiel es aus der Hand auf den Boden und es löste sich ein Stift im Messer der für den Verschluß bzw. das Feststellen der Klinge im ausgeklappten Zustand zuständig ist, fiel herraus und konnte seitdem nicht mehr benutzt werden, weil die Klinge nur noch lose durchhängt. Ich hätte nicht gedacht, dass Böker als "Fachgeschäft" Messer mit einer solch anfälligen Mechanik verkauft. Wir waren enttäuscht.
Hallo Uwe, vielen Dank für deine Rückmeldung und bitte entschuldige die entstandenen Unannehmlichkeiten.
Die Böker Messer-Manufaktur Solingen gewährt Besitzern eines Böker-Messers (Böker, Böker Plus, Böker Arbolito, Magnum) eine lebenslange Garantie auf Material und Verarbeitung. Die Garantie umfasst Ersatzteile und Arbeitskosten.
Stehst du bereits in Kontakt mit unserem Reparatur- und Garantieservice? Falls nicht, schreibe uns bitte eine kurze E-Mail an service@boker.de, wir werden uns dann schnellstmöglich mit dir in Verbindung setzen.

Write a review
Reviews will be activated after a verification.
Magnum
Magnum offers a wide range of knives from all categories, from traditional pocket knives to hunting knives and modern tactical knives. The attractive Boker brand is known for its unbeatable price-performance ratio. However, it is not only the price-sensitive knife enthusiast who is fascinated by the wide range of handle materials and practical blade steels. The concept takes place in Solingen, design, construction and finishing in Asia.
Magnum offers a wide range of knives from all categories, from traditional pocket knives to hunting knives and modern tactical knives. The attractive Boker brand is known for its unbeatable... more
Show products