Cookie preferences
This website uses cookies, which are necessary for the technical operation of the website and are always set. Other cookies, which increase the comfort when using this website, are used for direct advertising or to facilitate interaction with other websites and social networks, are only set with your consent.
Böker Manufaktur Solingen
Annual Damascus 2021
319,00 € *
*All prices include VAT, shipping costs will be charged separately.
Type:

Pocket Knife

Brand:

Boker

Engraving:

No

Overall Length:

18,80 cm

Blade Length:

8,30 cm

Blade Thickness:

2,50 mm

Weight:

69,00 g

Blade Material: Damascus
Handle Material:

Quilted Maple

Opener: Nail Nick
Opening:

Manual

Lock Type: Slipjoint
Made in:

Solingen

Item Number:

1132021DAM
Böker Oil Pen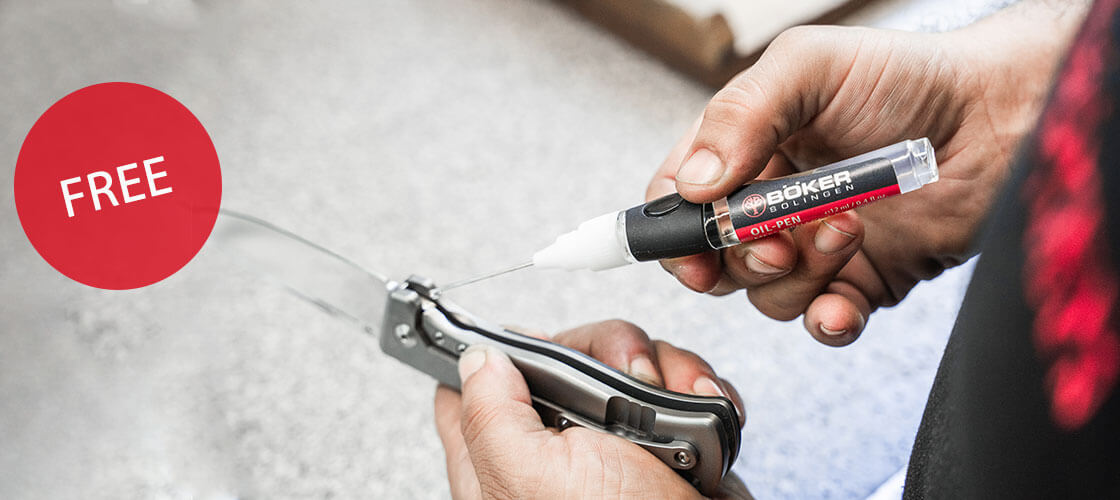 From an available order value of 49,- €* you will now receive a Boker Oil-Pen worth 11,95 € free of charge with your order!
*1 Offer expires at the latest on 15/12/2023
For the 2021 Annual Damascus Collector's Knife we have chosen the popular Boker Trapper Uno, which is a perfect everyday companion due to its extremely narrow design and which owes its name to the American Rangers of the settler era....
read more
For the 2021 Annual
Damascus
Collector's Knife we have chosen the popular Boker Trapper Uno, which is a perfect everyday companion due to its extremely narrow design and which owes its name to the American Rangers of the settler era. In the traditional version, the knife is equipped with upper and lower bolsters, whereas the Trapper Uno goes without the bolsters at the end of the handle.
The noble collector's version is equipped with a blade of
stainless
Damascus
by Chad Nichols, forged by hand in the Ripple pattern. It is opened by
nail nick
and does not lock. The unusual handle scales are made of domestic blue-stabilized curly
maple wood
, which has a unique striped transverse pattern. In combination with the decorative brass bolsters, this creates the colours of the city of Solingen. The bolster on the front of the knife also features the well-known city coat of arms.
While two crossed swords are intended to emphasise the importance of the City of Blades as the place of origin of high-quality cutlery, the anchor is considered the symbol of St. Clement, who has been venerated as the patron saint of the city since the 10th century. Handmade in the Boker Knife Manufactory in Solingen and strictly limited to 999 pieces worldwide. With noble floating display, certificate of authenticity and individual serial number.
Ten euro of the proceeds from each knife sold will be donated to to the Kinderschutzbund Solingen, which has been actively supporting needy children and parents in our city for over 40 years. Especially children suffer from the great economic and social challenges that have arisen and grown due to the worldwide pandemic also here in Solingen. The attentive social workers advise families under the motto "help for self-help" and relieve parents in difficult situations with their competence and expertise. In the Solingen clothing store, the Kinderschutzbund also sells well-preserved toys, books and clothes for babies, children and adults. All proceeds are used to support current projects as well as child and youth welfare. In addition, the Kinderschutzbund offers constant homework supervision for elementary school children and teaches them how to have fun while learning.
Please visit www.kinderschutzbund-solingen.de for more information and donation support.
Reviews for "Annual Damascus 2021"
From:
Matthias van Dine
On:
22 Jan 2022
Sehr schön !
Ein wunderschönes Taschenmesser . Viel zu schön um es nicht zu nutzen. Das kann ich nicht in die Vitrine stellen. So eine Arbeit muss man ehren , indem man das Messer benutzt ! Top Qualität
From:
Rudolf Waurich
On:
18 Aug 2021
A Draum! ?
Ich habe das Messer heute bekommen, Seriennummer 385. Auf gut Fränggisch A Draum. (Ein Traum, für die Nichtfranken)
Die Damastklinge ist sehr schön, auch schön scharf direkt aus der Schachtel. Habe sie gleich an einer harten Salami ausprobieren müssen.
Die blauen Griffschalen mit den Messingbacken passen optimal dazu, die Verarbeitung, wie gewohnt, top.
Wir leben teilweise in Frankreich, und im französischsprachigen Westafrika. Da ist es noch durchaus üblich, dass Madame und Monsieur bei Mahlzeiten im Restaurant ihre eigenen Messer verwenden. Ich bin mir sicher, dass dieses Messer auch unter den gestrengen Blicken der Herrschaften Chef(euse) de Salle, Oberkellner(in) und Sommelier(ière) Zustimmung finden wird.
Bei uns landen die Messer nicht in der Vitrine (mangels Möbelstück ?), sondern werden alle benutzt.
From:
Hans de Vreught
On:
20 May 2021
Beauty
Let me begin with the positive ones: blue is my color ;-). I've got 015/999. I loved the typo on the site in the beginning stating that Solingen was the city of Bbabes (ROTFLOL). The Damascus made by Chad Nichols is simple but quite stunningly well made. It is eye candy. The bolster is made of brass and luckily not pollished but brushed (no finger prints on the backside).. The liners are also brass. Fot its price it out performs higher priced knives.

The down part (not a 10) is that it is a slip joint. I dislike slipjoints because they are hard to open with one hand (you can open this withone hand with the proper technique). I know it makes it sellable in more countries but I really dislike slip joints.
Write a review
Reviews will be activated after a verification.
Help other interested parties with their purchase decision. We appreciate your honest evaluation.
Böker Manufaktur Solingen
The famous knives with the world-renowned tree-brand are manufactured in the City of Blades Solingen since 1869. Since then, no knife left our manufactory without this sign of quality. The history of Boker has been affected by eventful times. But one thing has always been the same in more than 150 years: Our passion and enthusiasm for extraordinary knives. The Boker Knife Manufactory Solingen has developed into a global innovation leader and the largest manufacturer of Sporting Knives, Tactical Knives and Collector's Knives in Europe.
The famous knives with the world-renowned tree-brand are manufactured in the City of Blades Solingen since 1869. Since then, no knife left our manufactory without this sign of quality. The... more
Show products