Slipjoint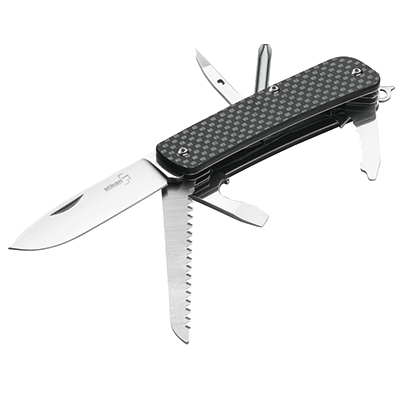 The slipjoint is a locking mechanism for folding knives. Slipjoint knives do not possess a mechanical locking mechanism. Instead, the open blade is locked only by means of a spring attached to the end of the spine. Slipjoints are one of the most common locking mechanisms for folding knives.
A slipjoint has a small spring at the back end of the spine that keeps the open blade in place. The knife is closed by putting pressure on the spine of the blade to overcome the resistance of the spring holding the blade in place. Once the spring no longer holds the blade, it can be closed very easily. Unlike other locking mechanisms, a slipjoint is not actually locking the blade, which means there is a heightened risk that the blade might close as it comes in contact with a hard object. For knives with this locking mechanism it is of vital importance that all parts are firmly and securely fitted together.
The slipjoint is regarded as the classic locking mechanism for folding knives. Before the other locking mechanisms were invented, e.g. the backlock or the linerlock, just about all folding knives were equipped with a slipjoint. This is the main reason why slipjoint knives remind many knife collectors of "grandpa's pocketknife". A pocketknife carried by people of our grandfathers' generation would have had a simple slipjoint mechanism.
Folding knives with multiple blades are one of the main applications of slipjoints, because this locking mechanism allows for a parallel arrangement of several folding blades. Another major reason for the widespread use of slipjoints is the fact that many countries have strict rules and regulations for carrying one-handed knives with a locking blade. Here, knives with a slipjoint mechanism are a better – and legal – alternative.
Knives with Slipjoint locking mechanism