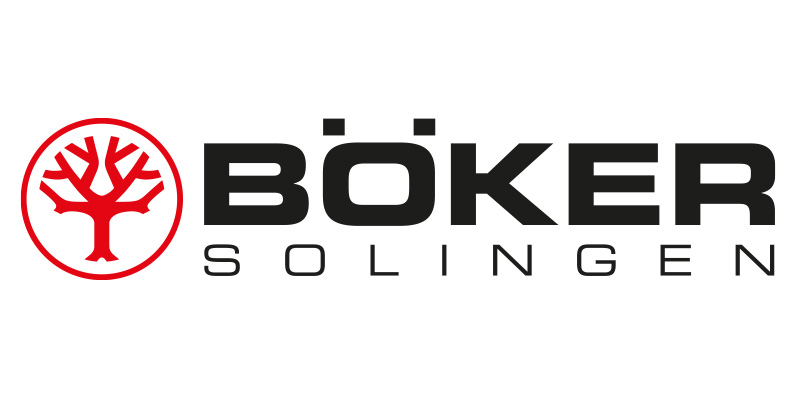 Böker Manufaktur Solingen
Core Chef's Knife
99,95 € *
*All prices include VAT, shipping costs will be charged separately.
Type:

Kitchen Knife

Overall Length:

34 cm

Blade Length:

20,7 cm

Blade Thickness:

3,4 mm

Weight:

188 g

Blade Material: X50CrMoV15
Handle Material:

Walnut Wood

Lock Type:

Fixed

Made in:

Solingen

Color:

Brown

Blade Color:

Uncoated

Item Number:

130740
What do Trier, Wiesbaden, Münster and Lüneburg have in common? Apart from a historic city center, landmarks that are famous beyond the borders of the region and a long-standing tradition as important trade cities, they share another...
read more
What do Trier, Wiesbaden, Münster and Lüneburg have in common? Apart from a historic city center, landmarks that are famous beyond the borders of the region and a long-standing tradition as important trade cities, they share another important aspect: These cities are the homes of excellent steelware retailers, who have built their outstanding reputation over many years by means of their extensive selection and first-rate expertise.
We harnessed their decades of experience, excellent know-how and finely
honed
every day sense for the requirements and needs of cooking and kitchen enthusiasts in our product development of the Boker Core series, combined with our almost 150 years of experience as a Solingen Knife Manufactory. The results is a product with dynamic lines, excellent handling and breathtaking cutting capability that earned the quality rating "recommended by leading retailers".
The solid blade slug made from a
chromium
-
molybdenum
-vanadium
alloy
(
X50CrMoV15
), perfectly suited for making premium kitchen knives, is hand-forged with Solingen craftsmanship, structurally optimized and then hardened to 58
HRC
. In order to give the blade a longer service life and even finer cut, our traditional hand grind is then highly polished.
The forged bolster ensures a secure grip and protects the user from possible injuries in case of a slip. A special design feature of all knives in this series is the gently rounded spine. This makes the knife easy and pleasant to handle in any position and prevents unpleasant pressure on the hand – even if strong pressure is applied to the spine, while executing a rock chop, for instance. The beautifully patterned and perfectly proportioned walnut handles round out the cohesive and appealing look.
The Chef's Knife is one of the most important knives in the kitchen and belongs to the basic equipment. It has a slightly wider and longer blade than the
Utility Knife
. The slim tip is also suitable for cutting onions or small vegetables. Thanks to its length it can also be used as a meat knife. It is also easy to process large vegetables.
"I'm particularly impressed with the absolute focus on functionality in the Boker Core kitchen knife series. The design is very pleasing – not too elaborate – and has a clean and flush connection of the forged bolster and the walnut handle, which also meets our hygiene requirements."
Jörg Lamskemper, Head of the Craft Guild Messerschmiede-Innung Münster

"Domestic wood types like the walnut used in this series are becoming more and more popular and can be found in many trendy kitchen accessories. We support the use of local materials and products that are still made with traditional Solingen craftsmanship."
Oliver Gayer, Head of the Craft Guild Messerschmiede-Innung Nordbayern
Reviews for "Core Chef's Knife"
From:
Lydia M.
On:
18 Nov 2020
Klasse Kochmesser
Das Kochmesser von Böker kann sich wirklich sehen lassen. Ich bin sehr zufrieden mit dem Produkt. der Griff fühlt sich sehr gut an in der Hand und es schneidet das Gemüse, Fleisch etc. wie es soll.
From:
Jens Schmidt
On:
3 Jun 2020
Rasiermesserscharf
Schickes Design und rasiermesserscharfe Klinge. Das Messer liegt super in der Hand und gleitet mühelos durch das Schnittgut. Werde mir noch weitere Messe der Serie zulegen!
From:
Mathias Eberhart
On:
11 Apr 2019
top Handlage
Schönes Design...liegt gut in der Hand...schön scharf...was will man mehr!

Ich hatte diverse Chefmesser von renommierten Herstellern zum vergleich und keines lag so gut in der Hand wie dieses!
Write a review
Reviews will be activated after a verification.
Böker Manufaktur Solingen
The famous knives with the world-renowned tree-brand are manufactured in the City of Blades Solingen since 1869. Since then, no knife left our manufactory without this sign of quality. The history of Boker has been affected by eventful times. But one thing has always been the same in more than 150 years: Our passion and enthusiasm for extraordinary knives. The Boker Knife Manufactory Solingen has developed into a global innovation leader and the largest manufacturer of Sporting Knives, Tactical Knives and Collector's Knives in Europe.
The famous knives with the world-renowned tree-brand are manufactured in the City of Blades Solingen since 1869. Since then, no knife left our manufactory without this sign of quality. The... more
Show products