Tanto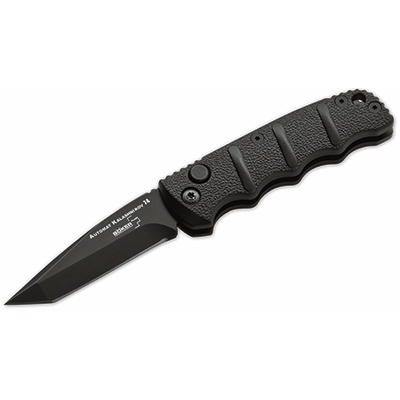 The so-called Tanto blade is a Japanese blade type that was mainly developed for swords and combat knives. Next to the classic Tanto blade originating in Japanese tradition, there is also a newer American version with a slightly different design.
The Japanese word "tanto" means "short sword", describing a single-edged combat knife with a maximum blade length of 30 centimeters. Meanwhile, Tanto has become the name of this particular blade type in general, whether or not it is found on a combat knife. One signature feature of a classic Japanese Tanto blade is that the point is level with the spine of the blade. Despite its position, the point is extremely robust because the edge drops down almost at a right angle and has very little belly.
The spine of a Japanese Tanto blade is either completely straight or slightly curved inward or outward. The basic design of an American Tanto blade is similar to the Japanese model – with one striking difference. Like the Japanese, the American Tanto blade has a (primary) point level with the spine, which is always straight in the American version. Unlike the Japanese version, the American Tanto blade does not have a belly at all but two straight edges intersecting in a secondary point. The short edge connecting the primary and secondary points is usually flat-ground, while the long edge has a hollow grind. The Japanese and the American versions of the Tanto blade score extra points for their robustness.
With its very small belly, the Japanese Tanto blade is mainly used for combat knives.Since the American version of the Tanto blade lacks a belly entirely, it is used for combat and tactical knives, where precise cuts are not a priority.